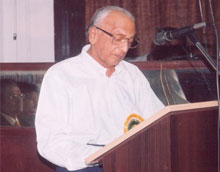 Mycological Society of India is a scientific body constituted for the advancement of subject of mycology, the study of fungi including mushrooms, molds, truffles, yeasts, lichens, plant pathogens, and medically important fungi. The Society was founded in January 1973 by a team of mycologists lead by Professor C.V. Subramanian, former Director, C.A.S. in Botany, University of Madras, Chennai, India and Former President of International Mycological Association, with a view to bring together mycologists of the country and with the broad objectives of promoting development of Mycology in India in all its aspects and in the widest perspective.
There are more than 400 members, including professional and upcoming mycologists with varied interests including taxonomy, ecology, pathology, genetics, molecular biology and physiology. The international members are also encouraged to join in the Society. All the Life members receive a subscription copy of the Journal of KAVAKA published under the aegis of Mycological Society of India.

IMC3 - Tokyo (1983). A. K. Tubaki. B. N. Hiratsuka. C. C.V. Subramanian. D. J. Webster. E. K. Esser.
Membership is open to all interested in mycology. The Life Member subscription is Rs. 4000 Admission fees in India and £100 or US $ 200 for those in abroad. The annual member subscription is Rs.1000 Admission fees in India and £20.00 or US $40.00 for those in abroad. Subscriptions are to be sent to the Treasurer, Prof. M. Sudhakara Reddy, Department of Biotechnology, Thapar University, Patiala-147004, Punjab, India. This email address is being protected from spambots. You need JavaScript enabled to view it.
All general correspondence should be addressed to Prof. N. Raaman, Secretary, MSI, C.A.S. in Botany, University of Madras, Guindy Campus, Chennai-600 025, India. This email address is being protected from spambots. You need JavaScript enabled to view it. Manuscripts for publication and books for review may be sent to Editor, Prof. N. S. Atri, Department of Botany, Punjabi University, Patiala-147002, Punjab, India, This email address is being protected from spambots. You need JavaScript enabled to view it., This email address is being protected from spambots. You need JavaScript enabled to view it.
The international mycologists who were Honorary Members of Mycological Society of India
Prof. G. Degelius
SWEDEN

Prof. R Kuhner
FRANCE

Prof. C.T. Ingold
UK

Prof. J.N. Couch
US

Dr. G.C. Ainsworth
UK
Prof.C.V.Subramanian at Inaugural function of National Symposium on New Vistas for Mycology in Meeting Global Challenges and the 35th Annual Meeting of the MSI held on January 29 - 30, 2009 at Centre for Advanced Studies in Botany, Univeristy of Madras, Guindy campus, Chennai.